TMC - 150 E - 1998
(Viewed: 1859x)
Product currently inactive, not for sale.
Auction
Price changed. Somebody offered higher price.
You raised price successfully
Price too low
Min price increase to the current price:
Drag the button to the right to submit the offer
Proof it's you. We have sent you an email with activation code. The code is valid 10 minutes.
Method and conditions of sale:
- deadline: offers can be entered until date and time at Ends section shown on website of the produkt (if any offer is entered in the last minute, it will be always possible to submit new offers in the following 5 minutes)
- NO comission fees will be charged
- the new entered offer must be higher, minimum by bidding step (shown minimum price increase), than the shown highest offer
- after submitting your offer you need to confirm your email by entering a sent code to your email
- produkt to be sold on as is where is base
- price parity EXW Buzica (loading is in price but special wanted packings like wooden boxes, vacuum packing and etc are not in price)
- by sending a bid, the price offer becomes binding, the object of purchase can only be purchased by one interested party with the highest offer
- after entering your first offer, you will receive a confirmation email from us, where you will be prompted to forward the buyer's data by email
- machine will be sold only to bidder who sent buyer's data
- if the buyer has a valid tax identification number for VAT, he buys without VAT, if he does not, he buys with 20% VAT
- until auction is not finished we send in last 5 days at 7 am (central european time) email notification of current price
- on last day of auction if the price changes due to higher offer, you will receive an email notification
- after last offer is entered the sale is closed and the condition of the trade is payment of proforma invoice within 48 hours after sending the proforma invoice by email to the registered email address of the buyer with the highest offer
- if the buyer does not comply with validity of the proforma invoice payment, the seller cancels the deal and next buyer with next highest offer will be contacted and so on
- inspection in warehouse of T & T trade s.r.o. must be advised 24 h in advance by email and is possible between 8:00-22:00 every day, also during weekends, last inspection is on 23.2.2023 till 22:00
- offered machine datas are due to our best knowledge (not binding)
- description and photos are on the machine website
- location for inspection is 04473 Buzica 369, Slovakia
- free storage till end of March 2023, from 1st April 2023 will be monthly charged 4 EUR/m2/month x occupied area of purchased item for each started month, latest pickup date 30th November 2023 unless the contracting parties agree otherwise
- seller IT EUROPE s.r.o., 04473 Buzica 11, Slovakia
- auction organizer IT EUROPE s.r.o., 04473 Buzica 11, Slovakia
- the organizer reserves the right to cancel the auction in justified cases without claims of the participants for damages, lost profit or contractual penalty, for example, technical problems, or if the minimum price set by the seller was not reached. In such a case, after the end of the auction, the organizer informs the buyer with the highest offer about the cancellation of the auction where the minimum price was not reached or about the acceptance of his highest offer.
- if any questions please contact us by email info@iti.sk or on phone or Whatsapp +421-905-563024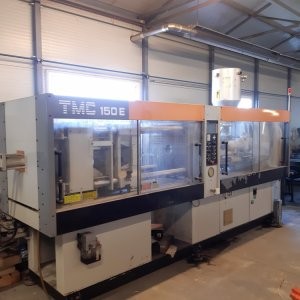 Year of manufacturing:
1998
Description:
TMC - 150 E - 1998
- used condition as showed on photos
- for more datas/ descriptions please contact us by email or phone


Photos
Please place your questions bellow: