FANUC - ROBOCUT A-1C - 1996
(Viewed: 435x)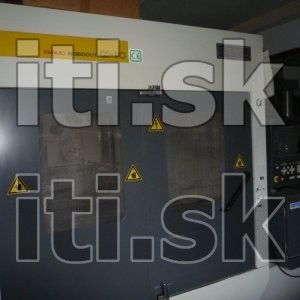 Year of manufacturing:
1996
Parameters:
X/Y/Z: 520/370/300 mm
Description:
- wire EDM machine
- X/Y/Z: 520/370/300 mm
- U/V: 120/120 mm
- Auto wire feed, submerged cutting, max 30 degree cut, etc.
- used condition as shown on the pictures
- under power, working condition
- Some time ago suffered some damage by power surge. Main CNC unit and its internal power unit checked, cleaned, fixed by Fanuc. Those are presently under Fanuc warranty again for one year.
- only known defect, repair presently postponed: a new I/O card needed. No communication between Desktop PC and Fanuc Wire EDM. Thus, presently the program input works only in manual input mode via control panel keyboard. Fanuc quoted the new card for around 800-900 Euros + labour.
- cooler, big water deionising tank, usual Fanuc Manuals included
- Precise disassembly, marking, etc for transport and loading to buyer's lorry included. (Securing on lorry is excluded) Packaging extra if special one is asked for.
Photos
Please place your questions bellow: